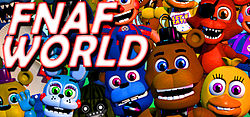 FNaF World
Go back to the world of Five Nights at Freddy's with FNaF World. The entire cast of characters of the fantasy RPG are back for players to control in this awesome adventure.
Download FNaF World
Over 40 characters and multiple quests let players explore the world of Freddy and discover the source of glitches in the world so players can restore the world to the way it should be. In this game, players must go into the world beneath worlds, or the "flipside" to find out why things are not right.
While many fans were not satisfied initally with FNaF World, the new release of the game hopes to make them happy. Many players complained about the lack of direction of the game or lack of clear goal. The new version of the game is made available for free to make up to fans and is intended to fix that with new features and bugfixes.
More Information
Title: FNaF World
License: Free
Operating System: Windows